Computer cables form the connections between computer systems and their peripheral devices. They are physical implementations of interface standards for transmitting data between computers and peripherals such as keyboards, display devices, mass storage units, and printers. These standards, developed over the years by various commercial firms and standards organizations, specify the usage and signal characteristics of each wire in the cable. They also specify data transfer rates, connector specifications, and maximum cable lengths.
Looking at a typical personal computer, one sees a jumble of cables. For instance, short IDE cables, serial ATA cables, or SCSI cables attach computer motherboards to their disk drives. Analog cables are used to connect computer audio devices to speakers, microphones, and external audio systems. 15-pin VGA cables or DVI cables connect computers with their display monitors, while Centronics parallel cables are often used to connect computers with printers. However, more compact USB cables and USB interfaces are now standard features on many printers, scanners, and digital cameras.
Early personal computers used a 5-pin DIN keyboard cable connector; IBM PS/2 keyboards used a 6-pin mini-DIN connector, and many modern keyboards interface via a USB cable. Early PCs used a 9-pin serial mouse cable connector; PS/2 models used a 6-pin mini-DIN connector, and today a computer mouse often interfaces using a USB cable. Because of the many cable and switching techniques that are used to connect keyboards, video monitors, and pointing devices, the computer cable industry has coined the acronyms KVM cables and KVM switches. These terms refer to products that interface keyboard, video, and mouse devices in various ways.
In a broader sense, computer cables include Cat5, Cat5e, or Cat6 network cables with RJ-45 connectors, which link computers together via Ethernet hubs and repeaters. For large network installations, professionally installed premises wiring, consisting of copper cables or fiber optic cables, is run through walls and between floors of commercial buildings.
On ComputerCables.us you will find a selection of popular cable suppliers offering a broad selection of digital computer cables, network cables, and audio/video cables as well as premises wiring products and services.
Shop for Computer Cables
Tiger Direct > Computer Cables


This online computer retailer features hundreds of computer accessories, including cables and adapters, for most computers and peripherals.
www.TigerDirect.com

Office Depot > Cables Finder


This office supplies company offers a broad selection of standard computer cables, network cables, and premise wiring in various colors and lengths.
www.OfficeDepot.com
Cable Manufacturers
---
Copyright 2004-2022 Zeducorp.
All rights reserved.
About us
.
Contact us
.
Search
.
For your convenience, certain links will open in new windows.
Computer Cables - Computer Cable Guide
Related Cables Images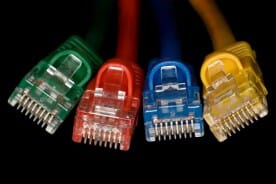 Colorful Ethernet Cables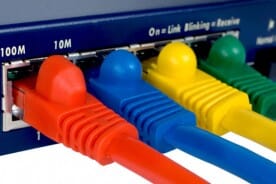 Cisco Router And Network Cables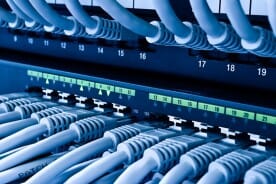 Network Hub And Ethernet Cables